Don't you feel fascinated by the restaurant kitchen designs you come across in movies and TV shows? Well, those professional-looking setups tend to be reasonably practical, and that's why even some households like to copy them. Of course, there isn't anything wrong with it.
After all, your kitchen has to face continuous use and abuse. But it can be more tolerant if you manage to equip it with the correct elements at suitable locations.
You can end up making it cozier, highly functional, and a lot more attractive. So, are you curious to explore some typical restaurant features in your home kitchen designs? Let's delve into some ideas quickly.
Many restaurant kitchens have an open window, which allows you to see industrial kitchen design ideas you can incorporate into your home kitchen designs.   Several companies that supply industrial kitchen,s now allow the public to buy the same professional kitchen equipment and supplies found in your favorite restaurant kitchens.
Here are 10 Kitchen Designs to Borrow from a Restaurant
1. Marble countertop for the island
Whether you want to roll out pie crusts or perform any other baking tasks, you can rely on the smoothness of this type of countertop to make your job easy. Besides, its new and royal appeal can take care of your expectations about the décor. So, yes, this element can be worth stealing from commercial kitchens for your home modern kitchen designs with an island.
2. Stainless steel surfaces
Anyone would know that kitchens happen to be the busiest corners in the restaurant. Chefs have to cook meals for so many people every day. As a result, they don't get time to figure out what they should keep where. Hence, their first preference tends to be solid and tolerant surfaces, such as stainless steel.
They vouch for this material for their kitchen designs, because it is hygienic, non-porous, and easy to maintain. Plus, they don't have to think twice before keeping a hot pan or pot on it. Other materials may not show that level of tolerance. Also, they can stain faster.
If you want to include stainless steel for the same reasons as them, start with the options for a restaurant sink for your home. Since you spend a considerable amount of time over sink doing different activities, you don't need to reconsider your decision before investing in a stainless steel model.
It can also be a sensible choice if you live in a large family that requires elaborate cooking. You may have to rush many times from one dish to another. Hence, it is pretty natural not to be mindful about keeping the pots you just removed from the oven or flame on a safer plane. Apart from the sink, you can also get stainless steel cooking utensils and appliances.
3. Utensil rack
Although many urban homes have already benefited from this, you can also get utensil rods for your kitchen to experience the difference. In restaurants, these rods help chefs to access any tool easily without having to struggle. It saves their precious time.
While there is nothing wrong with approaching it from this perspective, you also need to be aware that these small things can contribute heavily to your kitchen interiors. You can use this space to show off your tools artfully. And if there are open shelves above this, you can place colorful enamel cookware to create an enticing visual impact.
4. Service door
Restaurants require this feature in their kitchen designs to prevent servers wielding large trays from crashing into open doors. While it doesn't have to be the actual requirement in your home, you can get a service door with a porthole window to replicate the restaurant-like vibe. You can choose the area between your butler's pantry and kitchen for this. Or, it can go between your dining room and kitchen.
5. Commercial kitchen shelves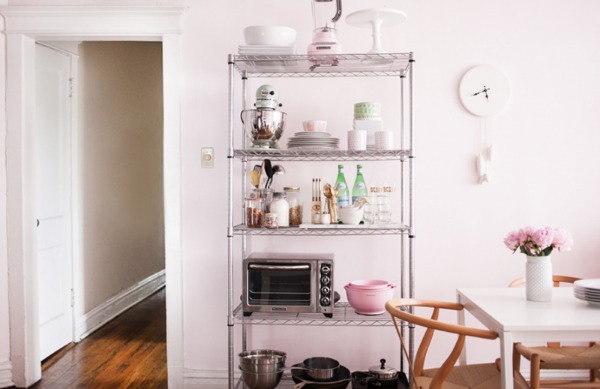 Standard sight in restaurant supply stores, you can bring this home for its sturdy body and appropriate size. You can keep small appliances, large cereal boxes, and cookware items on them without any difficulty.
6. Subway tile
In the last decade, white subway tiles dominated almost all American kitchens. But the trend has not faded yet. If you saw restaurant kitchens in romantic movies, you must have spotted them covering the entire floor and ceiling. So, it is safe to assume that this can work for you as well.
7. Worktable
You can use it as a worktop, peninsula, dining space, and much more. Plus, it can carry a vent hood and other elements with an equal amount of elan.
8. Mixed lighting
A kitchen without correct lighting can be inefficient and impractical. It is as relevant for the restaurant as for a home. Nevertheless, the choices are again amazingly extensive. From smaller flush fixtures to hanging pendants, you can pick your favorites to ensure proper lighting condition in your kitchen, even during the night.
9. Wooden cutting boards
These assure you of longevity and hygiene. However, you would want to rub your board with a bit of food-grade mineral oil to prevent it from becoming brittle or dry. Like restaurants, you would also want to have separate cutting boards for different tasks to avoid transferring unwanted smells to other items. For example, you can think of what will happen if you chop strawberries on the same board where you usually cut garlic.
10. Kitchen floor

Restaurants have to ensure that the kitchen floors are non-slip. In a modern kitchen designs, you can achieve this with cork and linoleum flooring. These can easily absorb the pressure. Or, if you pick hard floor materials, it would be better to wear padded shoes to protect your legs from fatigue.
Some restaurants demand kitchen staff to work in closed-toe shoes to protect their feet from getting exposed to hot liquid spills or dropped knives. If you observe, some chefs sport clogs. These give enough support to their arches, help them reach things located a little higher up, or let them remove their footwear hassle-free.
In Conclusion
It isn't crazy to aspire for your home kitchen to look like a commercial kitchen. You will vouch for your choices in home kitchen  designs once the project completes successfully. Of course, there will be massive costs involved in it. But you may not regret spending it on remodeling your kitchen after a restaurant kitchen theme.
Your guests can also admire your selection because not everyone gets the essence of such setups. So, don't delay your plans anymore. Just make sure you research a bit more on this type of design to implement it without any tension.
Author Bio
Jiggy clark is a freelance content writer and blogger, she writes on Home and kitchen improvement . She loves to spend her free time with family.