Easy Cast Iron Griddle Pancakes
As a Stay-at-home-dad (SAHD), I do all the cooking for my family.  One of my kids' favorite meals is breakfast for dinner.  The meal usually consists of eggs, pancakes or Belgian waffles and sausage.  One key to providing healthy meals for your family is to make pancake or waffle batter from scratch, rather than serve pre-made food that you warm in the microwave.  These processed food items contain unhealthy ingredients, including partially hydrogenated oils.
Easy Cast Iron Griddle Pancake Recipe
With other cooking appliances, the outside of pancakes are soft and kinda mushy, but with a cast iron griddle, the outside of the pancake are a bit crunchy while the inside is soft and fluffy.  Time after time, they are best home made pancakes I have ever made.  My kids devour them, and yours will too!
The key in using a cast iron griddle is to make sure it is seasoned.  It is quite easy to season a cast iron griddle.  This cooks a layer of fat onto the cast iron surface and make it non-stick just like your favorite teflon pan, but without the dangers of using a teflon coasted pan.  If you have not seasoned your cast iron griddle, just coat the surface with oil.  Heat the griddle on medium heat until the surface is hot.
Heating your cast iron griddle
Do not coat your cast iron griddle with olive oil as it has a low smoke point, and will create a lot of smoke in your kitchen when the cast iron gets hot.  it is better to use canola oil or peanut oil, which has a higher smoke point.  Food will stick to cast iron cookware if the pan is not hot enough.  A hot oiled or seasoned cast iron griddle will put a crust on the food that keeps it from sticking to the pan.  Even if you are using a pre-seasoned cast iron griddle, you should still heat a thin layer of oil in the pan.
Easy Cast Iron Griddle Pancakes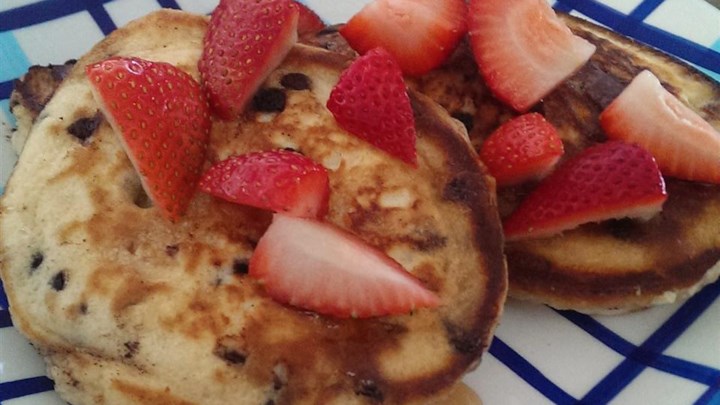 Guys, making cast iron griddle pancakes is not just a job for moms, SAHD need to master pancakes, too, since you are most likely the cook in the family like I am.  If you use a pancake mix, try to find a mix that does not contain partially hydrogenated oil, as this type of oil is a leading contributor to heart disease and type II Diabetes in children and adults.
Here is an easy cast iron griddle pancake recipe you an make at home:
Ingredients
1 cup all-purpose flour
2 tablespoons white sugar
2 teaspoons baking powder
1 teaspoon salt
1 egg, beaten
1 cup milk
2 tablespoons vegetable oil
Directions
In a large bowl, mix flour, sugar, baking powder and salt. Make a well in the center, and pour in milk, egg and oil. Mix until smooth.
Heat a lightly oiled griddle or frying pan over medium high heat. Pour or scoop the batter onto the griddle, using approximately 1/4 cup for each pancake. Brown on both sides and serve hot.
Source: allrecipes.com
Latest posts by Ken Weiss
(see all)