Update July 2021
Meyer Cookware has been a leading manufacturer and seller of cookware since 1969.  Even though you may have never heard of Meyer Cookware in the US, the name Meyer Cookware is synonymous with quality cookware for home cooks in many other parts of the world, including Canada, UK, Australia and Indonesia.
There's a good chance you own a piece of their cookware, or even your favorite cookware set is made by Meyer Cookware.  Meyer Cookware owns some of the most popular and well-known brands of cookware sets sold in brick and mortar stores, and online sellers in the US and around the world, such as Rachael Ray Cookware, Circulon, Analon, Farberware and Hestan Cookware for example.
In this article, you will be introduced to the various cookware lines owned by Meyer Cookware, including budget entry level cookware up to high-end professional quality cookware..
Meyer Cookware owns many of the popular cookware brands that home cooks use, such as:
Rachael Ray Cookwae
Hestan Cookware
Circulon
Farberware
Analon
Kitchenaid
Ruffoni
Circulon
Anyday
LockNLock
Meyer Cookware
Prestige
Joe Wicks Cookware
Ayesha Curry
Anyday
Bonjour
Let's Take a Closer Look
Rachael Ray is one of the most prolific TV chefs.  Her career started in her parents restaurant in upstate New York.  This lead to hosting cooking classes, which propelled her from a local access channel to The Food Network.  Rachael Ray Cookware makes several lines of  beautiful and affordable home cookware sets loved by home cooks.  This includes Rachael Ray Cucina, Rachael Ray Hard Anodized Cookware, and non stick cookware.
You may not know Hestan Cookware, but you probably know hard anodized cookware.  Hestan founder Stanley Cheng pioneered hard-anodized cookware in the 1970's, and has created a beautiful line of stainless steel cookware .  This was in response to professional chefs request for light and sturdy cookware, that could take the brunt of an industrial kitchen.  Chefs wanted cookware that was scratch and dent resistant, stain resistant and would not absorb odors.
Hestan NanoBond offers a unique, patented titanium based nano-technology, which allows the cooking surface to be 400% harder than typical stainless steel.
Now home cooks can enjoy this industrial-grade yet affordable hard anodized non stick stainless steel cookware.
You can visit the Hestan Cookware Store here.
Ruffoni Cookware was founded by by Fremide Ruffoni in 1962, is located in Italy on the secluded banks of Orta Lake in the Italian Alps.  Utilizing Italian artisan craftsmanship, Ruffoni is still manufacturing handcrafted heirloom quality copper cookware and beautiful hammered stainless steel cookware.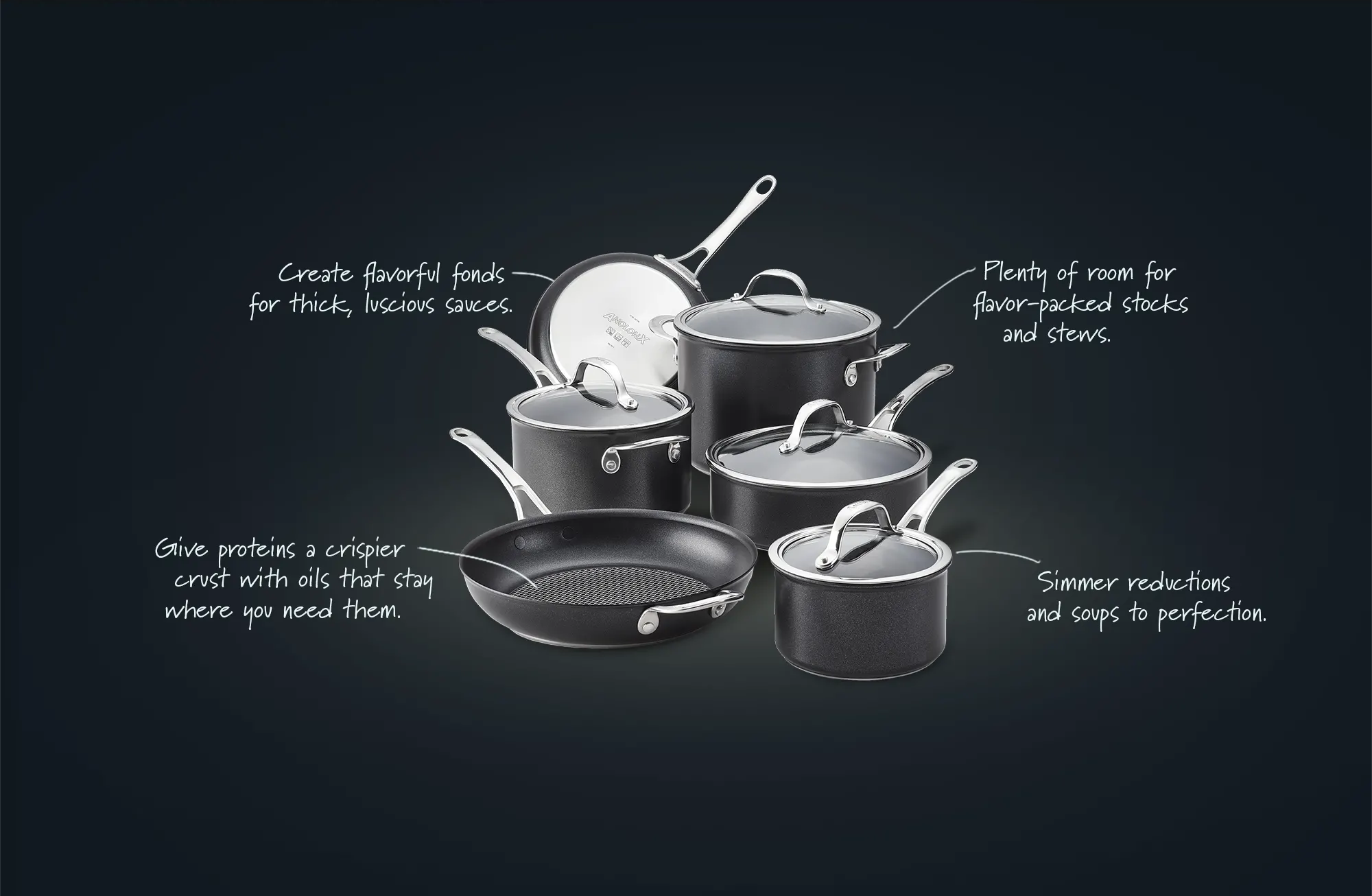 Analon Cookware is an affordable professional quality PFOA-free hard anodized non stick cookware line, which is preferred by professional chefs and home cooks alike.  The handles are riveted on to prevent them from falling on and causing injury or harm.
In 1986 Anolon pioneered hard-anodized nonstick cookware.
You can put Analon cookware in the oven up to 350 degrees F.  This popular Analon hard anodized cookware is dishwasher safe.
Since 1985, Circulon has focused on excellence in creating the best nonstick cookware line that enhances cooking of healthy delicious meals.
Circulon Cookware is known for the TOTAL® Nonstick System.  That's the famous raised red circles  and triple-layer premium nonstick surface, which combines for an exceptional non stick cooking surface that lasts 10X longer than ordinary nonstick cookware.
Farberware is known for producing budget-friendly PFOA-free non stick cookware.  The Farberware company, now owned by Meyer Cookware, was started in 1900 by tinsmith S.W. Farber.  Farberware is made with safe, PFOA-free nonstick surfaces that provides an even cooking surface for better cooking.
Farberware is known for making affordable non-stick cookware to meet any budget.
KitchenAid Cookware
Kitchenaid is not just known for making kitchen appliances like refrigerators and stand blenders favored by home cooks and professional chefs.  Kitchenaid is also known for making cookware sets to individual pieces, are designed to fuel creativity along with better temperature control.
Kitchenaid cookware includes riveted on handles for safety, which are designed to prevent heat from causing burns during the cooking process. The bases of the cookware are designed for superior temperature control, and Kitchenaid pots and pans are oven safe.  Pots are designed with lids that stay on and allow hot liquids to be poured off to prevent heat from escaping.
Other Meyer Cookware Reviews
Meyer Cookware makes so many popular cookware lines, there are too many to review in one document.  In this Meyer Cookware Review we focused on the most popular cookware sets sold in the US.
You can read all the Meyer cookware reviews here.
Latest posts by Ken Weiss
(see all)