Update August 2023
The Ninja Foodi Digital AirFry Oven is not your mother's old school toaster oven.  We purchased this Ninja Air Fryer Oven after our favorite Krups toaster oven died.
Air fryers have become the hottest small kitchen appliance for healthy cooking, which produces up to 75% less fat than traditional frying methods.  
We immediately loved the space saving feature, since we have limited counter space in the kitchen.  We pull it down to use it, then push it back into space saving once it cools down, and the Flip Up light goes on.
The Ninja Foodi Air Fryer Oven includes eight individual small kitchen appliances in one small package, for less than $200!

If you had to purchase each of these 8 small kitchen appliances in the Ninja Foodi separately, it would set you back one thousand dollars or more, and clutter your kitchen counter and cupboards.
This product review contains affiliate links.  If you click a link and buy the product, we may make a small commission, which helps run the blog.
Our favorite 15 year old toaster oven was on its last legs.  After several months of looking to replace it, we found the best air fryer oven.
With 8 of the best in class small kitchen appliance features, capabilities and price built into this toaster oven,  the Ninja Foodi digital air fryer oven quickly became our family's favorite small kitchen appliance.  It is loved by all members of our family.  Even our kids love how easy it is to use.
Why Buy the Ninja Foodi Digital Air Fryer Oven.
When you purchase a Ninja Foodi Digital Air Fryer Oven, you are buying a small yet very powerful multi-function small countertop kitchen appliance.  It combines nine popular cooking devices into one affordable package.
The 8-in-1 Ninja Air Fryer Oven from Ninja is not just an air fryer and toaster oven.  In addition to being a toaster over, The Ninja Foodi includes the following kitchen appliances in one small affordable package:
Frying food in oil is an unhealthy way of cooking that can lead to heart disease and weight gain.  Air frying in the Ninja Foodi Air Fryer Oven is a healthy alternative to cooking in oil.  This air fryer oven uses super heated air and no more than a tablespoon of oil to fry food, and create crispy hot fried food without unhealthy fat.
Check Out the Ninja Foodi Air Fryer Oven Demo
How Does the Ninja Foodi Digital AirFryer Oven Work?
The Ninja Foodi Air Fryer is so easy to use, even the kids can use it.  
Simply turn the dial on your Ninja Air Fryer Oven to the desired function. To adjust the temperature or cook time, press the "time" or "temperature" button and turn the dial to adjust the desired function.
Once you set the desired time or temperature, then just press the dial again to turn the oven on.
Unlike a normal oven that can take up to 10 minutes to reach the desired temperature, the Ninja Foodi AirFryer Oven reaches the desired temperature in just 2 to 3 minutes, and then starts cooking.
It is recommended to put the food in the oven when you set it, because the Foodi oven heats up quickly and starts cooking your item.  If you choose to wait for the oven to heat up first before you put in your food, it may start the cooking process before you put your food in the oven.
Just click time and turn the dial to adjust the cooking time and press the button.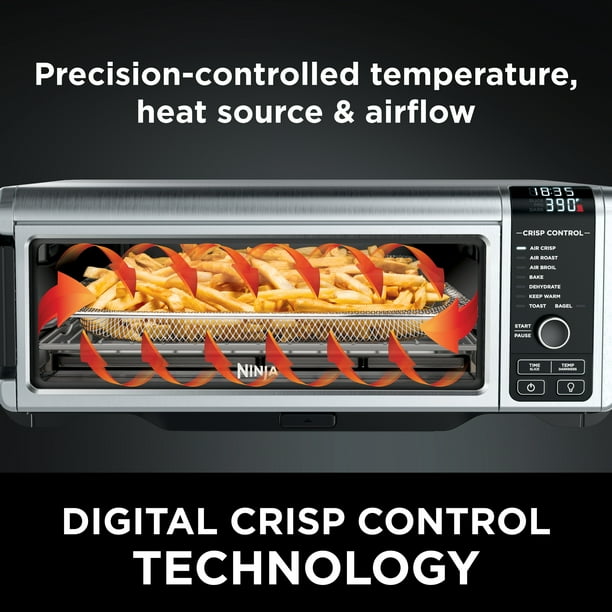 The Ninja Foodi AirFryer Oven Dehydrates Fruits and Vegetables
The air dehydrator function on the Ninja Foodi slowly dehydrates fruits, vegetables and meats over several hours.
Simply cut the fruits, veggies, fish or meats into small pieces and place on the wire rack.  Set the function to dehydrate and the Ninja Foodi does the rest.  The included recipe book, lists all the types of foods you can dehydrate.
Now you can make your own beef jerky, and dehydrate your favorite fruits and vegetables.  Dehydrating intensifies the flavor, preserves nutrients and helps it stay fresh and last longer.
Space Saving Toaster Oven
The Ninja Foodi Air Fryer Oven is designed to take up 50% less counter space than other toaster ovens and air fryers. You pull it down to use it.
Once it cools down and the "flip up" sign is illuminated, your Ninja Foodi is ready to be stored in the upright position.  This is perfect to save counter space, especially if you have a small kitchen,  or you have limited counter space.
Each of the nine appliances in the Ninja Foodi would cost you nearly $100 to $200, and would  take up your entire  kitchen counter and cupboard space.  You would be set back nearly $1,000 to buy each product separately.
Ninja Foodi Digital AirFryer  is Easy to Clean
The Ninja Foodi Digital AirFryer Oven is easy to clean.  When it's in the upright position, just pull down the bottom door to wipe away crumbs or any other left over mess from cooking.
When the Ninja Foodi is in the folded down position, the crumb tray pulls out to allow you to wipe away crumbs.
Benefits of The Ninja AirFry Oven
The ultimate meal-making machine: Air Fry, Air Roast, Air Broil, Bake, Bagel, Toast all in one powerful 1800-watt appliance.
Reclaim your counter space: Takes up 50% less space when you flip it up and away to store against your backsplash.
Air Frying uses up to 75% less fat than traditional frying methods. Tested against hand-cut, deep-fried French fries.
The Ninja Foodi has 45% larger usable pan cooking area vs. the flat surface area of the Cuisinart TOA-60 and TOA-65 pan. Fits a 13″ pizza, up to 9 slices of toast or 6 chicken breasts (6–8 oz. each).
This air fryer oven offers easy cleaning.  It includes a removable crumb tray and an easily accessible back panel for deep cleaning.
Cooks up to 60% faster than a traditional oven with Air Roast; Preheats in just 60 second preheat; full meals in as little as 20 minutes.
The Ninja Foodi has up to 40% more-even baking than the Cuisinart Air Fry Oven TOA-60.
Digital Crisp Control Technology: Precision-controlled temperature, heat source, and airflow for ultimate versatility and optimum cooking performance.
You can toast bread and bagels just the way you like.  You get multiple heat settings from light to dark toast.
The attractive Black and Silver design looks professional in any kitchen.
Includes: Wire rack; 13″ x13″ sheet pan; air fry basket; removable crumb tray.
Dimensions: 19. 7″ W x 7. 5″ H x 15. 1″ D; When flipped up: 19. 7″ x 15. 1″ H x 7. 5″ D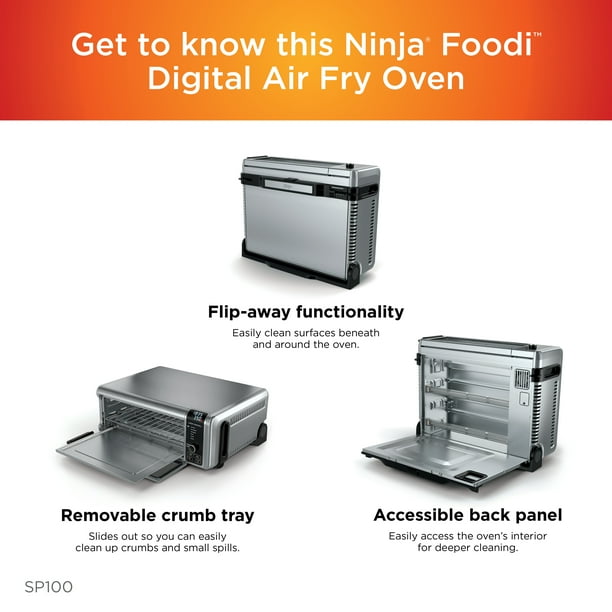 Alternatives to Ninja Foodi Air Fryer Oven

What are People Saying about the 8-in-1 Ninja Foodi  Digital AirFry Oven
This cycle is great for frozen snacks like French fries, cheese sticks, chicken fingers, etc. Your food not only cooks thoroughly, but crisps as well.

It preheats in about 60 seconds. cooks to perfect every time.

Its quiet and it heats super fast. It makes my 2 toasts in 3 min.

One great small oven. We replaced our old toaster oven with the ninja. It air frys chicken and does French fries in half time of regular oven.

I used it to make dehydrated mango slices and makes perfect crunchy plantains without oil!
Latest posts by Ken Weiss
(see all)