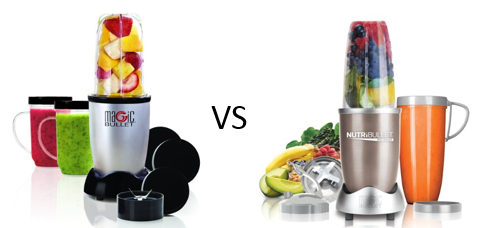 This Magic Bullet vs Nutribullet comparison was created to help readers determine which is the best bullet blender that reigns supreme.  Which is really the best bullet blender to make nutritious and healthy smoothies and shakes, home-made baby food, sauces  and more.
While there are several similarities between Magic Bullet Nutribullet and The Magic Bullet Blender, which are both made by Homeland Housewares.  There are equally notable differences of Nutribullet vs Magic Bullet in features, capabilities and price that distinguishes these two products.
This article offers a  Nutribullet vs Magic Bullet blender comparison, so you can learn:
the advantages and disadvantages features of each single serve blender
the best place to buy your new bullet blender.
As a stay at home dad, I try to steer my kids away from junky, sugary after school snacks, and towards healthy alternatives, like fruit and vegetable smoothies.  A bullet blender helps us do that, and it is so easy to use that both of our kids are able to make their own healthy drink snacks with our Magic Bullet Blender, with some help chopping fruit.
Once they learned to be creative this is now their favorite small kitchen appliance in our house, and I am their go-to test subject when they want to try a new smoothie…yeah me!
Nutribullet vs Magic Bullet
It can be difficult to decide which bullet blender to purchase,  Nutri bullet  or Magic Bullet Blender. These bullet blenders are made by the same company, Homeland Housewares, but they each target a different market segment and price point, so you need to do a bit of work to determine which bullet blender is right for you.
What's most important to you when deciding on which bullet blender to buy:
Price
Motor speed
Features
Number of blades
Accessories
That is why we at the-cookingpot.com have done the work for you with our Nutribullet vs Magic Bullet comparison to help you make the right decision.
Unlike a regular blender that spins at a relatively low RPM to mix liquid ingredients, a bullet blender spins at high speed up to 24,000 RPM, to crush and pulverize fruit and vegetable flesh, seeds, pits and stems to extract the fruit or veg's vital hidden vitamins and nutrients.  A high speed bullet blender, like the Nutribullet or Magic Bullet Blender, includes unique shaped steel blades, one designed to emulsify the pits, stems and seeds by crushing them into a tasty and nutritious emulsification, and a milling blade to grind coffee, beans, seeds and nuts.
Let's take a closer look at Nutribullet vs Magic Bullet.
The Magic Bullet Blender 26 Pc Set available at Amazon.com also includes a special ice shaver blade that turns ice into snow for specialty treats.
The Nutribullet and Magic Bullet Blender, available a Amazon.com, both do an excellent job at the following tasks:
making healthy juices and smoothie
make sauces without unhealthy ingredients, such as partially hydrogenated oil, sugar and excess salt
blend ingredients for delicious desserts
mix ingredients
grinding coffee, nuts, seeds
make healthy natural baby food
make delicious adult drinks
even crush ice and more.
The biggest difference between The Magic Bullet and Nutribullet blender is the motor speed.  The Nutribullet has a larger and more powerful 600 watt motor vs Magic Bullet Blender 250 watt motor, but the Magic Bullet Blender comes with more accessories, which is convenient over purchasing mixing cups separately.
There are differences in speed, accessories and cost, which you should know about before making your purchasing decision. Determining which is the best bullet blender for snoothies should be based on which bullet blender best fits your needs, not specifically which one has a faster motor, more accessories or cost.  The Nutribullet and Magic Bullet Blender each have their pluses and minuses to be considered, which you will learn about.
This article will offer a side-by-side comparison of the Magic Bullet vs Nutribullet to help you decide which is the best high speed bullet blender for your needs.
To Learn more About the Nutri Bullet and Magic Bullet Click Here
What Bullet Blender Models are Available?
Both the Nutribullet and Magic Bullet blender have several models of their popular bullet blender to choose from.  You can learn about the various models of each bullet blender below.
NutriBullet Blender
Magic Bullet Blender
Magic Bullet 26-pc Set (incl Ice Shaver Blade)
What's Your Motor Speed
The Magic Bullet NutriBullet has a 600 watt motor vs. a 250 watt motor for the Magic Bullet Blender.
The NutriBullet may be the perfect choice for superior blending capability when making smoothies or grinding coffee, but you also have to consider that higher RPMs can also result in mushy over processed ingredients, especially when making foods like salsa, home-made baby food, or shaved ice, where a chunky consistency may be more desirable.
This is particularly true of starchy foods, like rice or potato. Foods with a chunky consistency can be over processed into a liquid mushy concoction with the higher RPM of the NutriBullet.
This is also why the Magic Bullet Blender comes with an ice shaver blade and the nutribullet does not.  The higher speed of the Nutribullet will tend to liquefy the ice, due to the faster RPM of the motor.  In this case slower RPM of the Magic Bullet Blender is the superior option. You need to consider the uses before deciding which is the best hi speed bullet blender for you, and not assume the 600 watt motor of the Nutribullet will always be the superior choice.
If you are looking for an even more powerful bullet blender, then you may want to consider the NutriBullet 900, which has a more powerful 900-watt motor than the standard 600-watt motor and 15 accessories, including:
 NutriBullet 900 15-Piece Includes:
1 High-torque Power Base
2 Extractor Blade
1 Colossal Cup
2 Tall Cups
1 Short Cup
1 Handled Lip Ring
1 Regular Lip Ring
1 Flip-Top To-Go Lid
2 Stay-fresh Resealable Lids
1 User Manual & Cookbook
1 Pocket Nutritionist
1 Bonus Life Changing Recipes Book
To purchase a Nutribullet 900 at Amazon.com, CLICK HERE NOW
Number of Blades
The Magic Bullet Blender and NutriBullet come standard with two stainless steel blades.
An Extractor Blade for chopping, grating and blending, including onions, cheeses, meats and crushing seeds and pits for nutritious smoothies.
A Milling Flat Blade, which comes standard with the Magic Bullet and Nutribullet is designed for making whipping cream and grinding hard foods like coffee beans, nuts and spices.  Both blades are are made of stainless steel, so they are dishwasher safe and never need sharpening.
The Magic Bullet Blender 26 Pc Set also includes an Ice Shaver Blade, which turns ice into snow, which is perfect when adding crushed or shaved ice to your smoothie, making snow cones for kid's treats or for adult drinks.
The Ice Shaver Blade does not come standard with the Nutribullet blender.
How Many Mixing Cups Do You Get?
I have to admit, for the higher price I was a bit surprised that the NutriBullet skimps on mixing and drinking cups.  The Nutribullet only comes with one tall cup and two mugs, while the Magic Bullet 26 piece set comes with a large and small mixing cup, two large drinking cups and three mugs.
If you want to make two large drinks with the NutriBullet you need to transfer the smoothie to another cup, then clean out the mixing cup before making the next drink, which can sometimes be a hassle,especially if you are in a hurry.
With the Magic Bullet Blender you can prepare ingredients in both tall cups, and once the first one is mixed just rinse the blade, screw it on to the other cup and pop it into the base to mix, and walla, two drinks in less than 30 seconds with no fuss or muss. You also get a pitcher to make fruit punch or fresh lemonade for the kids or for a party, or for adults you can make a delicious pitcher of margaritas.  The NutriBullet definitely falls down in the accessory category compared to the Magic Bullet Blender.
NutriBullet vs Magic Bullet Comparison
 

 Model

Magic Bullet NutriBullet 

 Magic Bullet Blender

 

 

Motor speed 

600 Watts 

250 Watts 

Number of blades

 2

3

Tall Blending Cup

 2

2

Small Blending Cup

 0

1

Tall Drinking Cups

 1

2

Mugs

 1

3

Lids

 2

4

Steamer Lid

0

1

Shaker Lid

0

1

Color coded party

rings for cups

4

5

Pitcher

0

1

Dishwasher safe cups

Yes

Yes

Warranty

1 yr, and can be 

extended an additional 4 yrs.

 1 yr, and can be extended an additional 4 yrs.

Money Back Guarantee

 30 days

 30 days

Power base color options

 5 – Black, Blue,

Green,Orange, Grey

 1 – Silver

Manual

 Yes

 Yes

Recipe Book

 Yes

 Yes

Average Price
 $105.09
$48 – $55

(inc. shipping)

Click to Read Review
NutriBullet Review
 Magic Bullet Reviews
Warranty
Both the Nutribullet vs Magic Bullet Blender come with a standard 30 day money back guarantee and 1 year warranty, which can be extended to an additional four years.
In Closing
In closing on Nutribullet vs Magic Bullet, you won't go wrong with either the Nutribullet  or Magic Bullet Blender, which are both available at Amazon.com. Deciding which is the best bullet blender for your needs should not be decided solely on speed or price, but rather on your needs, and then deciding which bullet blender will best meet your needs.