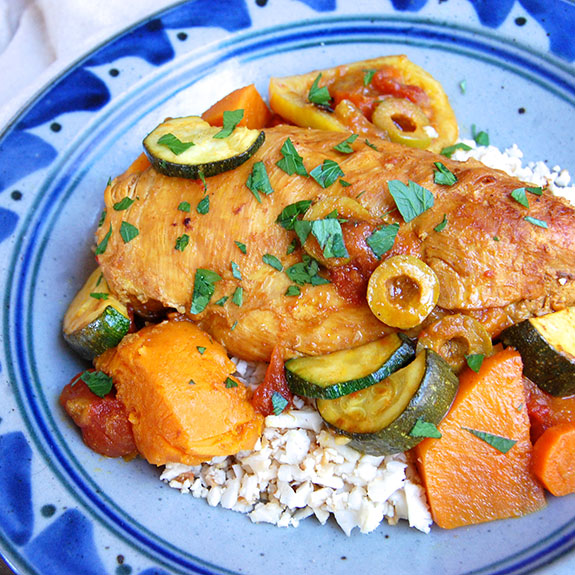 2 lbs. boneless skinless chicken breasts
2 tbsp extra virgin olive oil
1 large yellow onion, chopped
4 cloves garlic, minced
2 carrots, peeled and chopped
1/2 bell pepper, diced
1 lemon, thinly sliced
2 sweet potatoes, peeled and cubed
1/3 cup green olives, sliced
1 15-oz. can diced tomatoes
2 tsp cumin
1/2 tsp turmeric
1/2 tsp ground ginger
1/2 tsp coriander
2 zucchini, chopped
Salt and pepper, to taste
2 tbsp fresh parsley, to taste
Heat the olive oil in a large Dutch oven over low heat. Add the onion, garlic, carrots, and bell pepper and cook for 8-10 minutes until the onions are soft. Add the chicken breasts and cook for 4-5 minutes per side. Add the lemon and cook for 3 minutes, stirring occasionally.
Add the remaining ingredients except the parsley and add barely enough water to cover everything in the pot. Bring to a boil, and then turn the heat to a simmer. Cover and cook for 50-60 minutes, stirring occasionally. Add more water if necessary. Serve warm, topped with fresh parsley.
Servings: 4-6
Difficulty: Medium