If you have been thinking of replacing your old barbecue with a wood pellet grill,  you will want to consider the Z Grills Pellet Grill in your selection process.  Let's take a closer look.
This may be the best pellet grill you have never heard of.  Z Grills an affordable 8-in-1 pellet smoker that includes the same features, capabilities, construction and quality as the popular and more expensive pellet smokers, like Traeger, and is sold direct to consumer at about half the price.
Z Grills Pellet Grills offers 6 models, ranging from $399 to over $1,000.  Z Grills offers pellet smokers for every budget and smoking expertise, from a beginner to an advanced grill master.
In the Z Grills Pellet Grill Review, you can learn how to finally ditch that cheap barque and become a grill master!
This product review contains affiliate links.  We may make a small commission if you click a link and purchase a product.  This will not affect the price you pay.
What is Z Grills 8-in-1 Wood Pellet Grill and Smoker

The Z Grills Pellet gill is an 8-in-1 wood pellet grill.  Z Grills is a pellet smoker, a BBQ grill and oven all in one.  With the Z Grills pellet grill, you can smoke your favorite meats like a grill master, barbecue chicken or burgers, braise or roast or bake and pretty much anything your oven can do and more.  You can create an entire meal, including dessert with your Z Grills pellet grill.
With a regular outdoor grill, you have to stand at the grill the entire time, making sure the charcoal or propane doesn't go out, maintain heat or to make sure your food isn't over cooked and burnt.
With the Z Grills pellet smoker, you can set it and walk away.  Once you set the desired temperature, the unit does the rest.  It maintains the desired temperature, and the auger feeds wood pellets as needed to maintain the heat.
With a meat and smoker thermometer, it will alert you when the desired internal temperature of your food has been reached, to prevent over cooking or under cooking.  This is critical, since under cooking food like chicken can cause food born illness, such as salmonella poisoning.
This popular Z Gills pellet grill takes the mystery and fear out of smoking your favorite meats and fish.   I thought using a wood pellet smoker would be a daunting process.  Boy was I wrong.  I've smoked chickens, a 15 Lb turkey, a London broil and salmon perfectly with ease.
Not sure what to make?  The Z Grills website offers recipes to smoke and grill an entire meal, including meats, veggies and even dessert.
You can select from a variety of wood pellets to cook your food.  The smoke infuses flavor into the food as it cooks.  This type of grill uses wood pellets for fuel, rather than charcoal or propane gas.  There is no need to worry about food that tastes like lighter fluid or running out of propane gas during the cooking process.
You can smoke ribs or chicken, sear a steak, bake brownies, and make bread or even more.
Z Grills offers six lines of pellet grills for every budget.
Z Grills 400 Series Wood Pellet Smoker
The Z Grills 400 Series offers 5 wood pellet grills for under $500.  This impressive entry level live of wood pellet smoker for any budget, and are perfect for grilling or smoking steaks or hamburgers.
The hopper can hold up to 8 lbs of wood pellets.
This unit may not be large enough to smoke a turkey,  but it can definitely handle steaks, burgers and a whole chicken on 459 Sq. Inches of cooking space on this amazing budget 8-in-1 pellet smoker.
Z Grills 600 Series Pellet Grills
The 600 Series Features a digital PID control board and advanced technology for precise temperatures up to 750 °F. The 600D3E is crafted with heavy-duty steel and features a stainless steel lid, built to entertain a crowd for years to come.
Z Gills 700 Series offers  700 square inches of cooking space.  The porcelain coated rack prevents food from sticking and offers easy cleaning.   You can smoke any time of meat up to 20lb turkey, with large cooking space, and a 20 Lb hopper.  Pellets will easily last up to 5 hours before you need to refill the hopper.
The Z Grills 1000 Pellet Grill gives home cooks nearly 1000 square inches of grilling and smoking space on 3 porcelain coated racks.
A Little History of Z Grills Pellet Smokers

I recently purchased a Z Grills 700D Pro pellet grill to replace my rusting 15 years old barbecue.
A little history on Z Grills pellet smokers.  The manufacturers of Z Grills  worked behind the scenes for 30 years manufacturing pellet smokers for leading pellet smoker companies, like Traeger and Pit Boss.  They realized there was an untapped market for affordable high end wood pellet smokers.
After a successful crowd funding campaign and raising a half a million dollars, Z Grills entered the market in 2017 with their own line of high end yet affordable wood pellet smokers.
Within 3 years, Z Grills miraculously rose from being an unknown company to becoming a leading competitor and manufacturer of their own line of wood pellet smokers.
Using the design techniques they mastered over the years making smokers for Traeger and Pit Boss, this allowed them to quickly steal market share from the same companies they once built pellet smokers for.
They now offer a full line of pellet smokers from budget smokers under $400, to professional smokers costing over $1,000.
With an 8-In 1 Z Grills Pellet Grill you can:
grill
smoke
bake
roast
sear
braise
barbecue
or char-grill
How the Z Grills Pellet Grill Works
The Z Grills pellet grill is easy for anyone to use. You can assemble the pellet smoker grill in about two hours.  The hopper and cooking chamber come fully assembled.  You just need to attach the hopper, smoke chimney and base with the provided screws.  They even include the wrench and screwdriver.  Fully assembled, your Z Grills Pellet Smoker weighs about 140 Lbs.  You can easily move it around the backyard with the locking caster wheels.
Fill your favorite wood pellets in the hopper located on the side of the grill.   Set the dial to Smoke, then turn it on.  The mechanical auger begins to slowly turn and feeds the pellets into the firebox, where a rod heats up and ignites them.  You know the auger is turning as you hear pellets drop into the firebox.  A combustion fan located in the cooking chamber keeps the pellets burning to perfectly cook your food.
After the grill heats up, which takes about 15 minutes, you set the control knob to the desired cooking temperature and load your favorite meat for smoking, fish or whatever you are cooking .  As you turn the temperature up, the auger speeds up to increase the rate at which pellets are fed into the firebox.  The Z Grills Pellet Grill will quickly reach temperatures between 180 and 450 degrees F.
The thermostat temperature fluctuates to maintain the set cooking temperature.  As the temperature drops, the auger begins to spin to feed more pellets ans maintain cooking temperature.
If you're smoking ribs, chicken or turkey, this cooking process will takes several hours, so it is important to periodically check the hopper to add more pellets when necessary.
Z Grills 20 Lb Hopper
The Z Grills Pellet Grill comes with a 20 Lb hopper.  A fully loaded hopper can smoke or grill food for about 17 hours.
Most people grill food for for 2-3 hours and smoke meats for 3 to 5 hours.  You can smoke a 16 Lb turkey in 7 to 10 hours.
If you still have pellets in the hopper and you don't plan to use it again within a few days, you should remove the excess wood pellets.
Keeping pellets in the hopper for more than a few days, can potentially damage the hopper as pellets can swell due to moisture.
Use Wood Pellets for Fuel
Depending on what type of food you are grilling or smoking, there are several types of wood pellets you can use to cook and infuse delicious flavors, such as mesquite, cherry, apple, oak, alder, hickory, and maple for example into your meat, fish or veggies.
Rather than using charcoal or propane as the fuel, a pellet grill uses wood pellets as the fuel source.  Pellets come from several different types of trees, such as oak, maple, cherry, apple, mesquite and more.  Rather than the flavor of charcoal, your food will be infused with the delicious flavors of the smoke, as the wood pellets burn.  The key to achieve the best flavor is to keep the lid closed.  Opening the lid allows heat and smoke to escape.
Once the electric igniter starts the flame, pellets stored in a hopper are automatically fed into the flame by a slow turning auger. The smoke infuses the flavor of the wood pellets into the food as it cooks. What are the benefits of a pellet grill.
You can buy bags of wood pellets, and also buy wood pellet blends.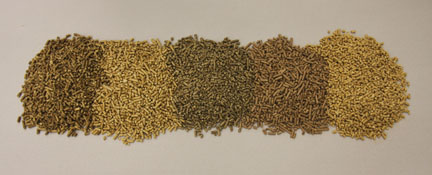 What's the Warranty
All Z Grill wood pellet grills come with a 3-year warranty.
Z Grills Sells their Pellet Smokers Direct to Consumer
Z Grills does not sell their pellet smokers in brick and mortar stores.  They cut out the middleman and sell direct to the consumer from the factory.  This allows Z Grills to pass the savings on to you.
Alternatives to Z Grills Pellet Smokers