The resurgence in the popularity of  the best pressure cookers in the past years is absolutely commendable! There are many smart ones available in the market now which can sharply reduce the cooking time.
They can also upgrade the ambiance of the kitchen while omitting any extra heat nearby your stovetop. Also, you can find multiple electric cookers nowadays which don't vent unnecessary steam like the conventional models.
Howbeit, amid of such a wide range of variety, it becomes quite perplexing for the house-owners like you to buy one. With the arrival of smarter pressure cooker models in the market often, you really have a lot of choices to opt for.
Nevertheless, there are some pressure cookers which are too amazing! They can always add a value to your kitchen while upgrading it like never before.  .
You can't mark any desired smart feature which is not present in this pressure cooker. The Insta Pot has everything that a modern cooker needs to have and even some effective extras.
The seven stupendous functions that you can enjoy while cooking in this pressure cooker are: pressure cooker, slow cooker, yogurt maker, rice cooker, saute/browning, warmer, and steamer.
Isn't it a fabulous package of cooking convenience?
Well, the control panel of this pressure cooker makes cooking very easy with high and low pressure both. Also, you will be able to enjoy the aforementioned astounding features at the touch of a button. Moreover, this pressure cooker offers a variety of timer functions to make cooking an easy chapter as per your schedule.
How much is the cost?
You can buy an Insta Pot for just $ 100 on Amazon.
Crock-Pot Express Crock Programmable Multi-Cooker:
The Crock Pot Express cooker is again a multi-tasker which can not only pressure and slow cook but also let your saute or steam your food. Interestingly, you can set these functions altogether with a delayed timer. Hence, it is ensured that you will be able to eat a freshly done meal when you reach home.
The extras that you will get while buying this pressure cooker are a recipe book, steaming rack, and serving spoon.
You can purchase this pressure cooker  on Amazon. So, you don't have to break your bank!
Mealthy MultiPot 9-in-1 Programmable Pressure Cooker:
If you find the idea of an electric pressure cooker to be something exciting, this is a great one for you. Moreover, when you are cooking for a few people, the Mealthy Pressure Cooker is just perfect. Interestingly, it has all the attributes of larger units with a smartly smaller footprint and cooking capacity.
Also, this multipot cooker has nine options of smart cooking which are the slow cook, pressure cook, saute, steam, rice making and so on. The central cooking pot of this cooker is made of stainless steel in which you can make anything starting from yogurt to cake and curries.
Moreover, the Mealthy multi-cooker has a stainless steel steaming tray which you can use for steaming veggies at the same time as you cook food in the pressure cooker.
This perfect multi-cooker for small kitchens is available for $ 100 at Amazon. With it, you get  multiple recipes and a helpful app to guide you too.
Presto 6-Quart Stainless Steel Pressure Cooker:
If you want a simple stove top pressure cooker without all the extras, the Presto 6 Qt Pressure Cooker is your cup of tea.  The premium quality pressure regulator of the cooker maintains an even cooking pressure throughout the process of cooking. Also, the tight lid of this appliance ensures that the entire pressure remains in the pot.
Moreover, it is not like other conventional pressure cookers out there which are made of aluminium. This Presto pressure cooker is made from stainless steel. So, you can very easily cook all kinds of acidic food in this.
For less than $ 50, you can grab this Presto 6-Quart from Amazon.
Presto 23-Quart Pressure Canner and Cooker: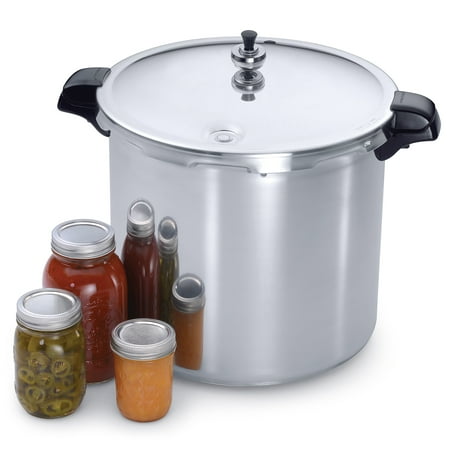 This unique Presto 23 quart pressure cooker comes with a dial gauge which measures the internal pressure precisely. It is a quite important attribute of pressure canning.
As this pressure cooker and canner is made of aluminium, it offers even heating. It well as a boiling water canner. When it comes to cooking, it is used as a large capacity 23 quart pressure cooker. 
You can get the Presto 23 Qt Pressure Cooker for less than $ 100 on Amazon.
In Conclusion
Aren't these best pressure cookers seen to be highly efficient?
With any one of these pressure cookers, you will make your kitchen a better place to your cook your food, since you can cook your food in a fraction of the time of a regular oven
In addition, you will certainly end up having the best cooking experience ever!
Author Bio:
Clara Decker, content developer at Couponsmonk.com.  She is a free time writer and full-time internet surfer. Clara likes to work on making in-home life better in society. She lives like an entrepreneur to support her husband at the month ends.