Updated August, 2023
Every home cook should have a cast iron dutch oven, and the Lodge Enameled Dutch Oven is a beautiful, heavy duty 6 Qt  non stick cast iron dutch oven.
This affordable cast iron dutch oven is so versatile. You can make roast, a whole chicken, stew, chili, brisket, soup and so much more.
This is our go-to enameled cast iron dutch oven when making soup or stew.  While it takes a bit longer to heat up than other pots, it retains heat longer, even after we turn off the burner.  The enameled coating makes clean up a breeze.
While a cast iron dutch oven from names like Le Creuset and Staub sell for anywhere from $250 to as much as $350 or more,  the Lodge Cast Iron Dutch Oven is affordable for any budget.  You can cook an entire meal,  with your Lodge Enameled Dutch Oven.
The Lodge enameled Dutch Oven sells for just $60 on Amazon.com.
We've owned our Lodge Dutch Iron Oven for over 5 years.   It's is one of our favorite and most used pieces of cookware in our kitchen.
This product review contains affiliate links.  If you click a link purchase a product, I might make a small commission, which helps run the blog.  You will not pay any more for the product.
Affordable Enameled Cast Iron Dutch Oven
The Lodge enameled Dutch oven , available at Amazon.com, is made to the exacting standards set by Lodge metallurgists and enamelers.  They only use safe materials that are 100% free of cadmium and lead, and are free of PFOA and PTFE Free materials.
Is enameled cast iron cookware safe to use?
Many other enameled cast iron dutch ovens cost between $100 and $300.  Lodge wanted to make their enameled cast iron dutch oven affordable for any budget.
What is an Enameled Cast Iron Dutch Oven?
Let's start with the basic question most stay at home dads who are new to cast iron cookware will ask at this point – what is a cast iron dutch oven?
A dutch oven is generally a large round or oval heavy pot made from molten cast iron.  It has a tight fitting lid to retain heat.
Cast iron cookware is ideal for cooking to help retain heat for a long period of time.
Since food can stick to a cast iron dutch oven, metallurgists discovered an enameling process to coat the bare cast iron and make the cooking surface non-stick, and enameled cast iron was born.
Health Benefits of Cast Iron Cookware
Using the Lodge enameled dutch oven has a health benefit as well.  You get the same non-stick benefit of Teflon without the danger of using Teflon coated cookware.
A small amount of iron is absorbed into the food with each use.  This gives you a beneficial trace element your body needs for healthy blood and bones.
What's Under the Lid?
The lid is made with the same frit applied to the dutch oven. This is important since the lid is critical to keep heat and moisture in, and the enamel surface of the lid is easy to clean.
The tight fitting leads keep heat and moisture in the hot, to help cook the food quickly, and retains heat after cooking.
Lodge Oval or Round Dutch Oven, which is Best?
The Lodge enameled dutch oven comes in round and oval.   This maximizes your cooking options for small and large cuts of meat, whole or cut up chicken, roast, soup or just about anything else you can imagine.
The traditional Lodge enameled Dutch Oven from is round, like the cast iron dutch ovens used in European kitchens to make soup or stew, and comes in 3 qt, 5 qt and 7 qt sizes.
You can check out Lodge Cast Iron Cookware on Facebook and find interesting new recipes.
This lead Lodge to meet customer requests for a larger oval dutch oven, with it's oval shape designed to accommodation longer and larger cuts of meat,  without you having to cut the meat into smaller pieces to fit a round dutch oven.
No Seasoning Needed
While bare cast iron skillets and pots require seasoning to give them the non-stick coating needed to prevent food from sticking, a Lodge Enameled Dutch Oven does not require seasoning to make it non-stick.
The white frit coating provides a non stick cooking surface.
How Long Does it Take to Heat Up?
Due to the thickness of cast iron, the Lodge enameled Dutch Oven,  generally takes a bit longer to heat up than other types of kitchen cookware.  I usually allow my cast iron cookware to heat up for 5 minutes before putting meat in it.
Cast iron has the advantage of holding heat much better than aluminum or stainless steel cookware.  That means you can use less energy to keep food warm, or for slow cooking over a long period of time.  So even after you remove it from the burner, Lodge cast iron will retain heat for nearly one hour.
Heat Resistant Knob to Prevent Burns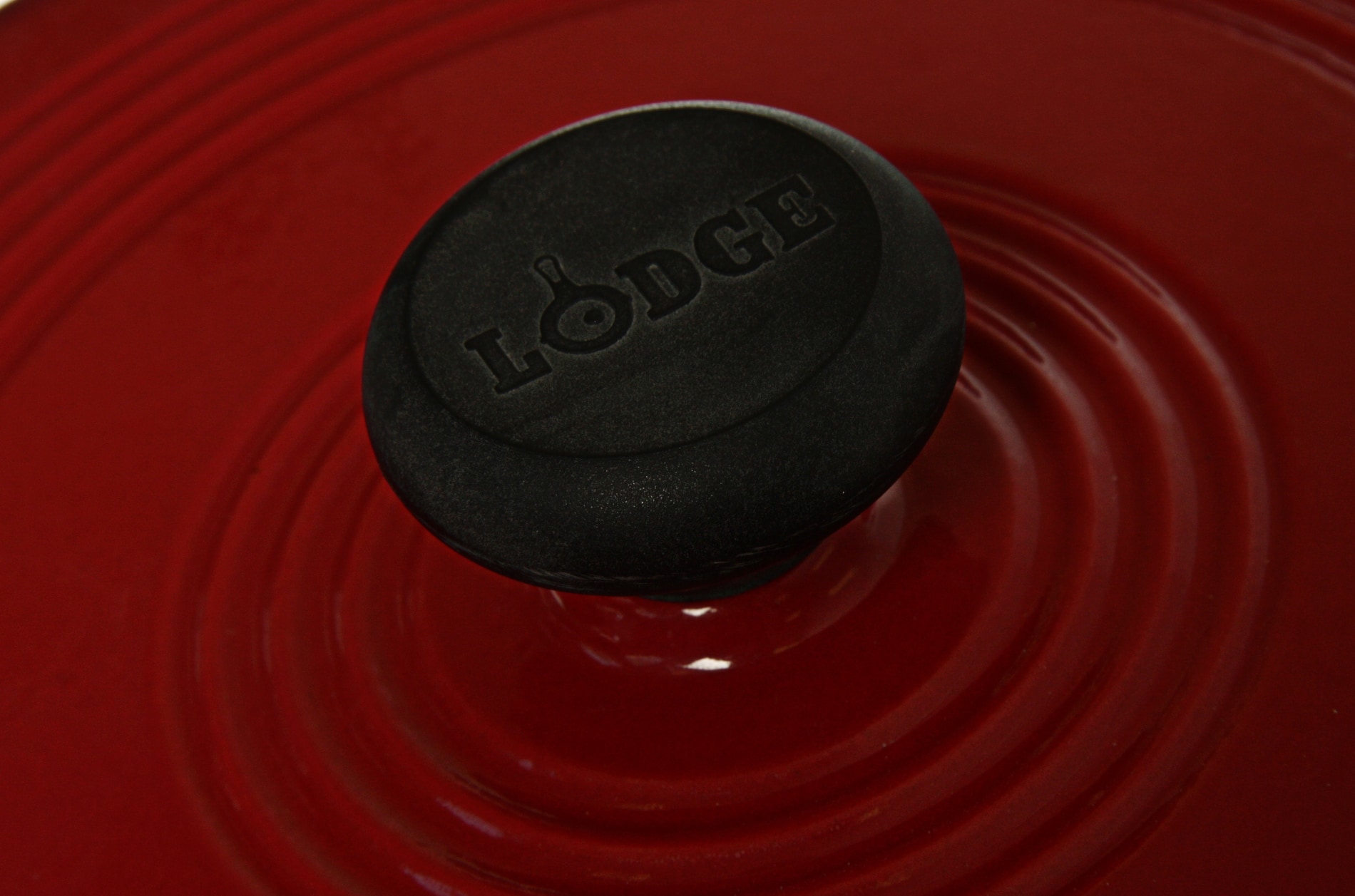 The Cast Iron Dutch Oven  comes with a heat resistant phenolic plastic knob that can withstand oven temperature up to 400° F, so you can still handle the lid with your bare hand without getting burned, even when the dutch oven may be hot to the touch.
If you have a Lodge Dutch Oven with a stainless steel knob, it is oven safe up to 500° F.
What Sources of Heat Can You Use?
The following heat sources can be used on various heat sources including:
gas
electric
induction
ceramic/glass top stoves and ovens
Is It Lead Free?
Lodge Cast Iron is in full compliance with California Proposition 65, the most rigid standard for lead and cadmium content in the US, which was enacted by the California EPA in1986, and is cadmiun free – lead free- PFOA and PTFE free.
Yes, Lodge Cast Iron is in full compliance of FDA standards for safe levels of Lead and Cadmium in Glazed Ceramic Surfaces.
Can You Use Metal Utensils?
Use wood, silicone, or nylon utensils only with an enameled Lodge Dutch Oven.  Metal utensils can scratch the enameled coating.
Easy to Clean?
It is quite easy to clean the Lodge Enameled Dutch Oven with warm soapy water and a sponge.
If you accidentally allow food to burn, follow these simple instruction to clean burnt cast iron cookware.
While Lodge Mfg. states that you can clean enameled cast iron cookware in a dishwasher, they recommend hand washing to preserve the shine and luster of your cookware.
I have found our enameled cast iron cookware cleans easy with just a sponge and water.  I often use a bit of baking soda to remove tough baked on stains.
Before cleaning, allow the cast iron cookware to cool to room temperature to prevent getting a burn.
Health Advantages of Cast Iron Cookware
The beauty of the Lodge cast iron Dutch Oven is that it contains trace amounts of iron, that are absorbed into the food as it cooks,  which are actually beneficial, since the body needs trace amounts of iron for healthy blood.
What Sizes and Colors are available?
Lodge Enameled Dutch Oven is available at Amazon.com in a rainbow of colors and sizes.
Most stores carry a few colors and only one or two sizes, click here to see all the beautiful colors available to match your kitchen or your personality!
Check Out the Exciting Colors That are Available
Island Spice Red
Green
Caribbean Blue
Burgundy
Emerald Green
Pumpkin
What Sizes does the Lodge Cast Iron Dutch Oven Come in:
Click here to see the colors and sizes of the Lodge Enameled Dutch Oven available at Amazon.com
What is the Warranty?
Lodge Mfg. offers a Limited Lifetime Warranty on all of their products.
What Are People Saying 
"Excellent value and construction"
"Just as good as Le Creuset, without the steep price"
"Wonderful Dutch Oven"
"Love it, love it, love it!"
"All you want, for less!"
"Best Dutch oven ever and a great value!"
Where Can You Buy Lodge Cast Iron Dutch Oven?
There are several big box stores that sell the Lodge Cast Iron Dutch Oven.  In many cases, you will pay $79 to $118 or more.
Our research and shopping experience indicates that Amazon.com has the best overall value for the Lodge enameled Dutch Oven, usually you will pay just $59 with free shipping!
In addition to offering the lowest everyday price  we have found, the Free Super Saver Shipping option truly makes Amazon.com the best overall value for this cast iron dutch oven from Lodge Mfg.
Alternatives to Lodge Cast Iron Dutch Oven