Updated August 2021
We love using our slow cooker to prepare meals.    I was excited when we had the opportunity to try the 360 slow cooker.  This is a beautiful 4 qt stainless steel slow cooker and stock pot made from surgical stainless steel.
Slow cooking is a convenient and healthy way to cook at low temperature over a long period of time.  I will discuss this in this product review.
Let's get the legal stuff out of the way, so we can get to the fun stuff.  If you buy this item through a link on this page, I may make a small commission.
The good news is, you pay the same price regardless.  There is no price markup.   Now on to the fun stuff.
What is the 360 Slow Cooker
The 360 Slow Cooker, from 360 Cookware is a beautiful shiny 4 Qt. stainless steel slow cooker, made from surgical grade stainless steel.
The 360 Slow Cooker It is actually two pots in one.
You can use it as a stainless steel slow cooker with the slow cooker base
or you can use it as a 4 Qt. stock pot on your stove top or in the oven up to 500° F.
I've been reading that some slow cookers contain lead.  The good news is the 360 Cookware slow cooker is 100% lead free.  360 Cookware is made of three primary metals that are bonded together. The cooking surface is made from T-304 Surgical Grade 18/8 Stainless Steel.
Unlike other stainless steel cookware manufacturers that use toxic chemicals to give their stainless steel cookware their shiny color, 360 Cookware rubs the stainless steel cookware by hand to bring out the shiny luster.  This not only protects the environment, it also prevents toxic chemicals from being absorbed into the food you cook and ingest.
360 Cookware is only available directly to you from the 360 Cookware warehouse in Westbend, Wisconsin.
360 Slow Cooker Product Features:
The 4 Quart Stainless Steel Slow Cooker unit is extremely versatile.
You can use this stockpot on the stove top.  It acts as a "little oven" that allows you to bake small meals to perfection.
Stockpot heats up quickly.
Induction Capable ( 4 qt stock pot w/cover
Use with or Without the Slow Cooker Base
Made with ergonomic Handles, you can easily move the pot from the oven, stovetop or slow cooker to your table.
Made with Tri-Ply T-304 Surgical Grade Stainless Steel.
Pot can be stored in refrigerator.
Handcrafted in the USA
What Comes in the Box:
4 Quart Stock Pot w/ Cover
Slow Cooker Base
Use & Care Guide
Certificate of Authenticity
Cookware & Bakeware Catalog
You have two options to use the 360 Slow Cooker and 4Qt. stockpot.
You can use the 360 Cookware 4 Qt. stock pot with the slow cooker base as a stainless steel slow cooker
You can use it on your stove top or in the oven up to 500° F as a 4 Qt. stock pot.
Made with Surgical Stainless Steel

The Stainless Steel Slow Cooker from 360 Cookware is made with a metal called surgical stainless steel.  Surgical stainless steel is a grade of stainless steel primarily used in biomedical applications, because it is corrosion and oxidation resistant 3-ply 18/8 stainless steel.  What does that mean?
The number 18/8 refers to the percentage of chromium and nickel in the metal.  360 Cookware is made with 18/8 stainless steel which contains 18% chromium and 8% nickel.
The outside layer (sits on the burner) is made from T-400 stainless steel, also known as induction ready stainless steel.
T-304 Surgical Grade stainless steel is a hard, sturdy and shiny metal that prevents scratches, is non-corrosive,  and won't stain or absorb flavors or smell.  That's the benefits of cooking with stainless steel.
Unfortunately, stainless steel is a terrible conductor of heat.    That's where the aluminum core comes in.  Aluminum is great conductor of heat.  It evenly heats the bottom, sides and top of the pot.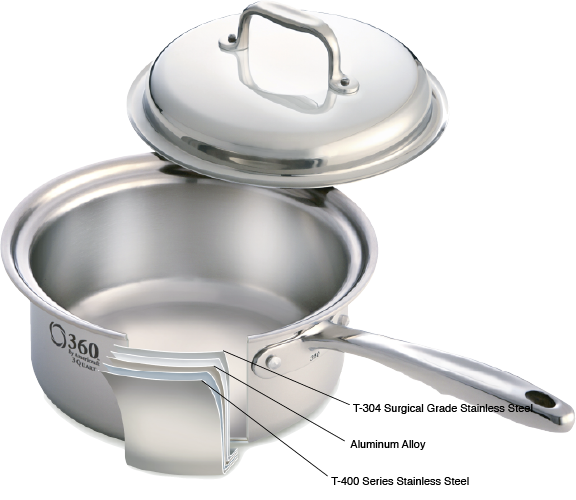 The outer layer of stainless steel is magnetized.  This material has a lower nickel content and high carbon steel, which allows it to be used on an induction cook tops. These two layers of stainless steel surround a layer of aluminum, which ensures superior heat conduction and even heating.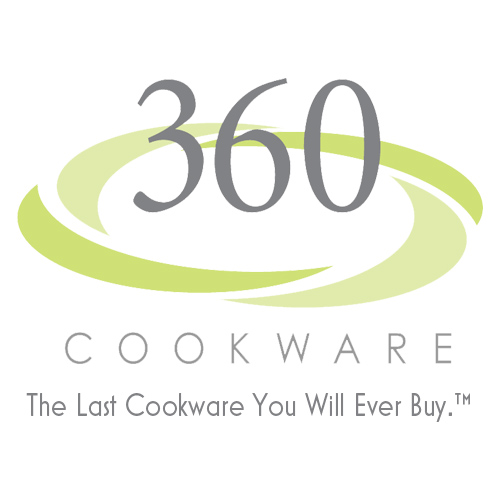 Large Ergonomic Handles
The 360 slow cooker  is made with large ergonomic handles that are permanently riveted on, to prevent falling off and causing injury.  The shape of the handles fits perfectly in your hand.
How Well Does it Work?
I was excited to try out the  Stainless Steel Slow Cooker from 360 Cookware by making a chili.  We also have an Instant Pot, so I was interested to see how the 360 Slow Cooker compared.  The main differences I found are:  the Instant Pot is larger, heavier and bulkier, and you have to use and extra cup of water to create steam, so the chili can come out a bit watery.
I heated up just a tablespoon of extra virgin olive oil (EVOO).  I browned 2 lbs. of ground beef on the stove top on medium heat setting.  I added a medium onion chopped, and four 15oz cans of different beans, and 1 jar of tomato sauce.
This fit into the stock pot perfectly.  The domed lid definitely adds a bit more room for ingredients.  The bottom, sides and top of the stock pot heated up quickly and evenly.
The chili in the 360 stainless steel slow cooker took four hours to cook and came out perfectly.  Due to small 4 Qt size, the pot stores perfectly in the refrigerator.  No need to store the food in a separate smaller container.
You'll want to use a rag or grilling gloves when handling the pot, as the lid, handles and sides will get hot to touch.  After pouring off the fat and adding onions,  beans, tomato sauce and chili spice mix, I put the stop pot on the slow cooker base, and set the temperature knob to 4.
After a couple of minutes I saw liquid bubbling on top, which indicated I was ready to spin the lid and engage the vapor cooking technology.  This circulates heat up and around the food.
Brown meat in the stockpot on the stovetop on medium heat, until the meat is just turning brown.

Add onions and vegetables

Place pot on slow cooker base, and set to #4.  When you see steam coming from the lid, spin it.  This engages vapor cooking.
Cook for 4 hours.

Enjoy chili.
How Does 360 Cookware Compare to the Competition
What is Vapor Cooking Technology
Vapor cooking is a unique waterless cooking method that uses less water, fat and heat to cook your food.  You use just a table spoon or less of water or oil.  Put your ingredients in the pot, and set it on medium.
Once you see heat and liquid bubbling through the corners of the lid, spin it.  This locks the lid to start the vapor cooking process.
The lid seals tightly into the pot, and the domed lid keeps heat and liquid in, so food cooks in its own juices and water.
The domed shape lid creates space so heat can circulate around and through the food, to cook food faster and at lower temperature.
The recipes state you need to follow the cooking exactly, and in the order states on the recipe.  360 Cookware states the chicken, meat or pork will come out moist and tender.
The chili came out delicious and moist.
Where to Buy 360 Cookware
Just click the Shop Now button to be taken to the 360 Cookware Store to order your 360 slow cooker or other 360 cookware pieces.
Comparison to Other Cookware