The NutriBullet Blender by Homeland Housewares, is the most popular hi-speed bullet blender on the market.
This hi-speed bullet blender is designed to extract the vitamins and nutrients out of fruits and vegetables that a regular blender can't extract.  The real vitamins and nutrients and locked in the skin, seeds and stems.
Why spend $6-10 for a fruit or veggie smoothie, when you can make a delicious and healthy smoothie in your own kitchen for pennies?
This is not only the best bullet blender for smoothies or healthy drinks.  With the NutriBullet blender you can also make delicious Alfredo sauce and peanut butter without all the unhealthy ingredients in store bought sauces.
With the NutriBullet Hi-Speed Blender you can:
puree carrots or peas for baby food
grind coffee in seconds
make healthy peanut butter or almond butter for pennies
whip up a shaved ice treat for the kids
and so much more.
You are only limited by your imagination.
This site contains affiliate links to products. We may receive a commission for purchases made through these links.  You can read more here.

What is the NutriBullet Blender?
The NutriBullet Blender is a powerful high-speed bullet blender, that makes healthy and nutritious smoothies, shakes, shaved ice, baby food, and natural healthy sauces in seconds.  In addition, you can grind coffee, grind nuts and crush ice and more.
The compact size of the Nutribullet blender is perfect for any size kitchen.   It takes up just a fraction of space of a regular bulky blender.
The NutriBullet Blender did not get it's name just because of the bullet shape.  Rather because of it's  powerful 600 Watt motor that spins at a whopping 24,000 RPM,  as compared to a regular blender that spins at around 8,000 RPM.   That's why it's often just called the Bullet Blender, since it makes smoothies, shakes, shaved ice, baby food, and sauces in seconds.
Unlike a regular blender that only has one blade.   A juicer is big, bulky, noisy and leaves the skin, seeds  and pulp behind.  This is where all the hidden nutrients and vitamins are stored.
The NutriBullet bullet blender comes with two different size blades to do what a regular blender can't.  Why buy an expensive juicer when the Nutribullet blender
an extractor blade to perfectly extract all the vitamins and nutrients from hard or soft fruits, vegetables or grasses.
breaks down and pulverize the stems, seeds, and skin and flesh, to unlock essential nutrition and vitamins are stored.
and a milling blade to chop nuts, make sauces, desserts and grind coffee beans.
What's In the Box?
NutriBullet Power Base
1 tall 24 ounce pitcher
2 short 18 ounce cups
1 Extractor blade
1 Milling Blade
2 re-sealable lids
Pocket Nutritionist
Nutribullet Recipe Book
600 Watts of Power
This popular Bullet Blender packs a whopping 600 watts of power to completely and efficiently chop, mix, blend, grind, pulverize or crush most ingredients into a smooth, delicious and healthy blend using the patented cyclonic action to extract natural goodness.
This powerful bullet blender is portable, safe and easy for adults and kids to use, effortlessly chops and pulverizes fruits and vegetables, is easy to clean, and stores easily in half the space of most blenders and food processors.
Regular full-size blenders and food processors are great when making large recipes,  that require 3 or more cups of dry or wet ingredients.
The NutriBullet Blender is ideal when you are making a small batch recipe.  This high speed bullet blender is designed to perfectly whip, chop, pulverize or mix small or single-serve quantities of ingredients.
If you are worried you won't know what to make with the NutriBullet, no worries!   It comes with a Nutribullet Recipe Book packed with easy to make recipes.
How Does the NutriBullet Blender Work?
The NutriBullet Blender from Homeland Housewares, is sure to impress with the high-torque power base of the impressive 600-watt motor and cyclonic technology.   This high-power bullet blender allows you to mix, blend, chop, pulverize and grind everything from fruits, vegetables, coffee and even ice for your favorite drinks, smoothies and other recipes.
What is Cyclonic Technology
With the amazing bullet cyclonic action, the the ingredients are pushed up, then down into the extractor blade.   The incredible 24,000 rpm of the Nutribullet motor, forces the blade to actually crush through the stems and seeds,  so they are fully broken down and pulverized.  This allows them to release their hidden nutritional goodness for your health and nutrition.

Comes with Two Blades for Mixing and Chopping

While a traditional blender has just one blade to chop, mix or blend ingredients, the NutriBullet Blender comes with two blads: an extractor blade and milling blade.
NutriBullet Extractor Blade
The NutriBullet Extractor Blade is perfect for emulsifying ingredients to make healthy fruit or vegetable smoothies or drinks, since this blade is used for breaking through tough seeds, stems and skin  to extract the nutritious goodness hidden in most soft or hard fruits, vegetables or grasses.  This is much more efficient and thorough than a blender.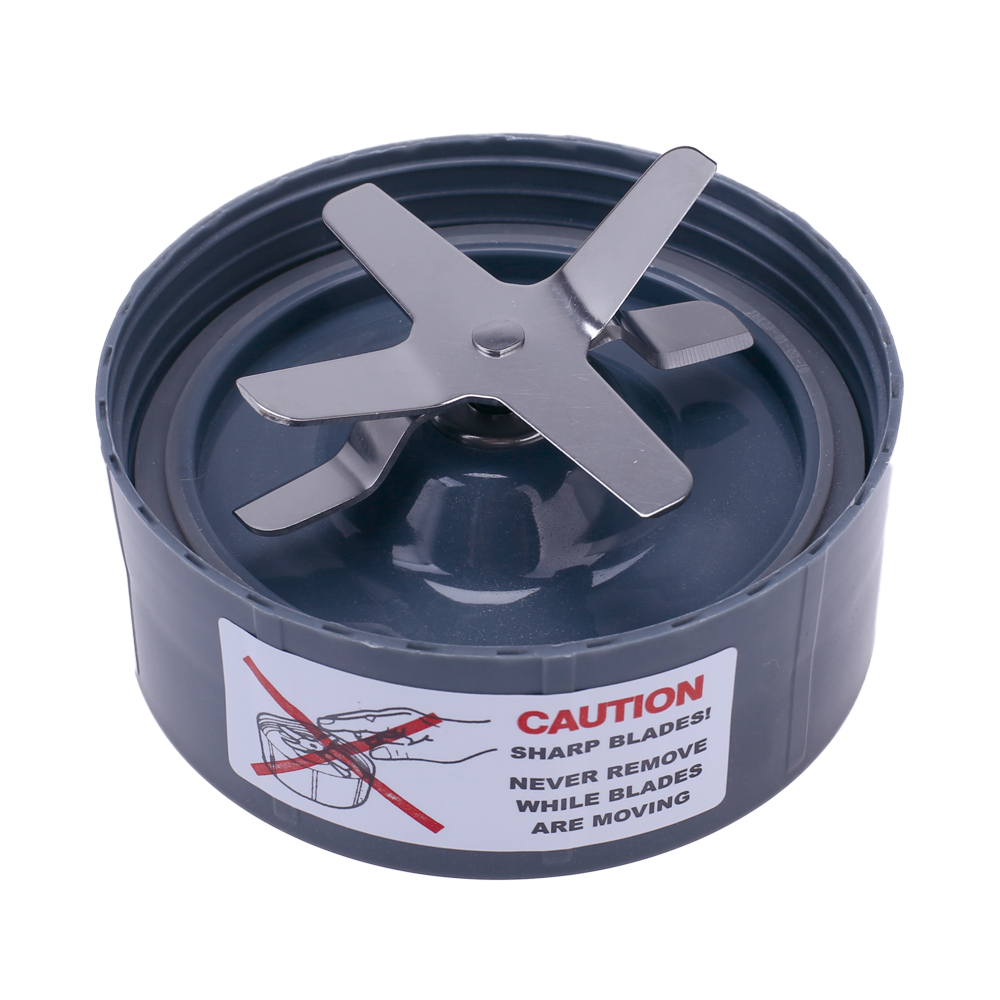 NutriBullet Milling Blade
The NutriBullet Milling Blade is ideal for mixing, milling grains, grinding coffee, grinding fresh herbs and chopping nuts.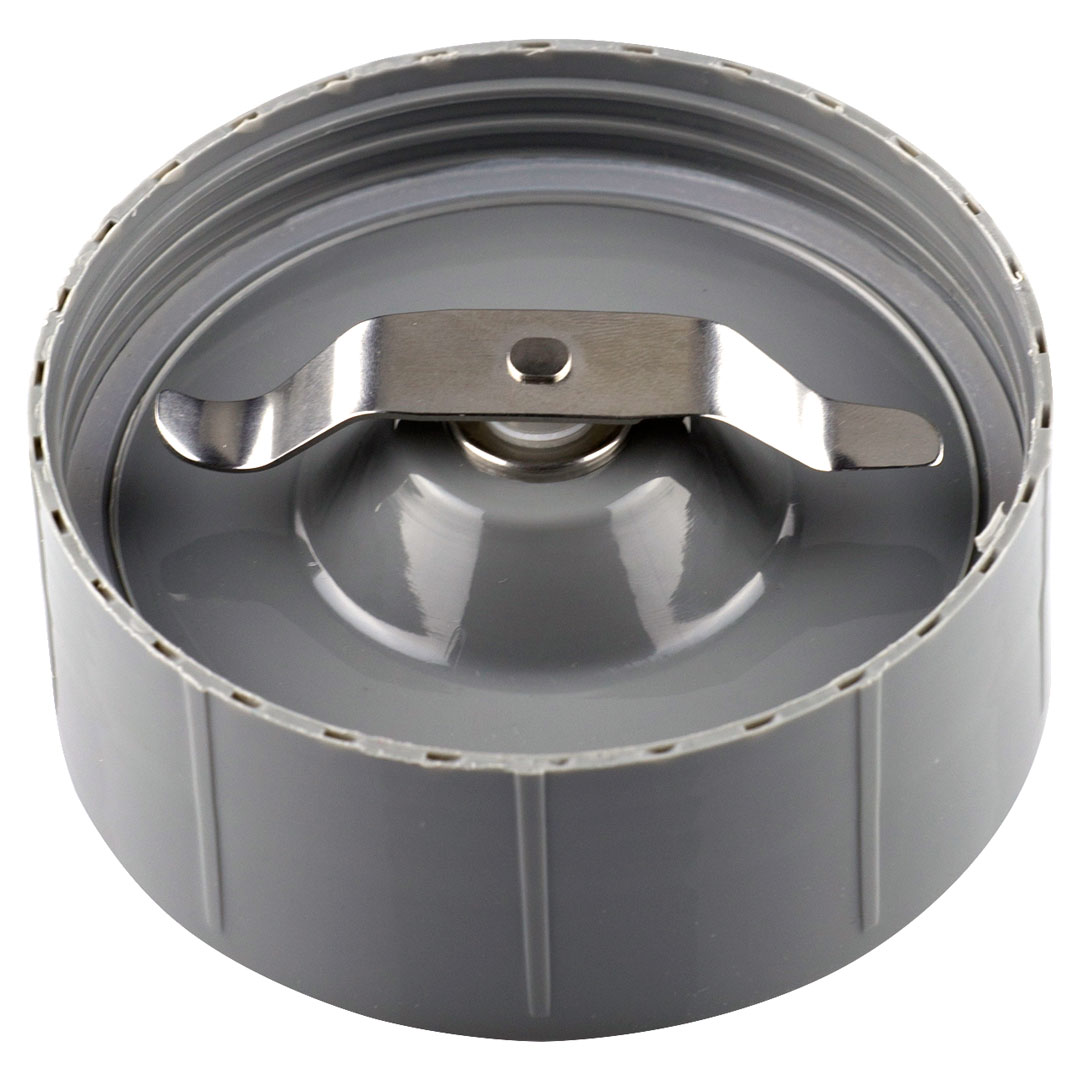 These two blades work very similar to those found in a food processor, yet are smaller, lighter and less expensive than most food processors, and stores in a fraction of the space of a bulky food processor.
What Can You Make with the NutriBullet Blender:
Make healthy and nutritious drinks.
Healthy sauces without unnatural ingredients of store-bought products
Make crushed ice for adult drinks, desserts and other recipes
Includes a milling blade that quickly grinds coffee or nuts
Want a Bit More Power?
While 600 Watts of power of the Nutribullet Hi-Speed Blender is more than enough for most users, sometimes you may want a bit more power.  Here are a few options that kicks it up.
Nutribullet Pro includes:
900 watts of power to mix, blend grind and chop just about
13 piece

High-Speed Blender/Mixer System

Hardcover Recipe Book

(1) Extractor blade

(2) 32 oz. Cup2

(2) to-go lids

(2) lip rings

(2) lip rings with handle
Nutribullet RX includes
1700 watt motor

(1) 30 ounce

short cup

(1) 1 liter

pitcher




Hands-free SMART technology

Single servings and family-sized servings

Heating cycle for soups & sauces

Smart Technology with Auto Start/Stop Functionality
Replaces Several Kitchen Appliances
Normally you would need several small kitchen appliances to do the things the Nutribullet Blender can perform. With this bullet blender, you can save time and counter space in your kitchen!
While a standard blender or food processor mixes, chops and minces ingredients, this popular bullet blender  does so much more.  It also pulverizes and breaks down the skin, flesh, seeds and stems of fruits and vegetables at an impressive 24,000 RPM.  This machine fully extracts the nutritional goodness and vitamins your body and mind craves.
The Magic Bullet NutriBullet is the big brother to the popular Magic Bullet Blender.  The Magic Bullet  allows you to make an endless array of smoothies/shakes, soups, sauces, dips, egg dishes, desserts, grind coffee, and your favorite adult beverage.
 With the NutriBullet Blender, the Ideas are Endless:
You can quickly whip up single serving healthy and delicious vegetable and fruit drinks and smoothies in seconds.
Create healthy beverages that can help you fight and prevent disease, help you lose weight, relieve joint pain, promote healthy, younger-looking skin, and even add years to your life in just a few seconds
Whip up delicious sauces without the unhealthy ingredients found in store-bought sauces
Make healthy natural hummus,  natural baby food or delicious egg dishes
The recipe book contains so many delicious desserts
Grind coffee or nuts in seconds
You can chop, mix or blend ingredients faster than a blender or food processor
Create delicious adult drinks
Food Processor, Mixer and Juicer in One
Rather than spending hundreds of dollars on a bulky mixer, home juicer or food processor, with the NutrtiBullet you get all three in one.  You get this essential home appliances in one small yet powerful package for less than $99.00 at Amazon.com.  You would easily spend double or triple that amount to own all three, and just think about the cabinet space you are saving.
Can the Cups Go in the Microwave Oven?
The NutriBullet Blender cups are not microwave safe.  Do not place the cups, power base or accessories in the microwave, as this may result in damage and will void your warranty.
Are the Cups BPA Free?
The NutriBullet cups are 100% BPA (Bisphenol A) and Phthalates free.  They are made with non-toxic high-impact plastic.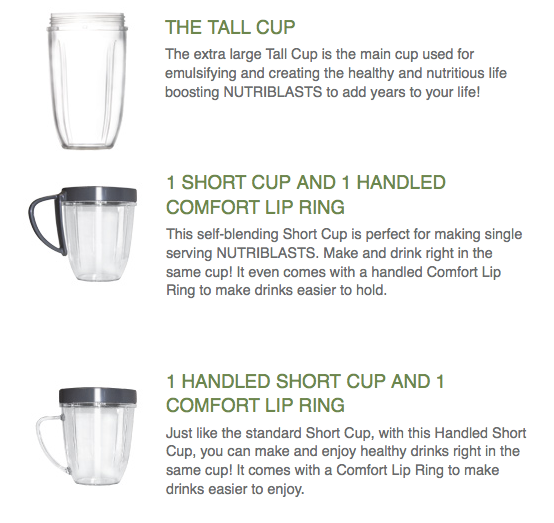 What are People Saying About their Magic Bullet NutriBullet?
         Pro's
Blends all ingredients including pulp, to make nutritious and healthy drinks and smoothies.
Works as well as an expensive juicer.
Makes more than just drinks.  You can even make ice cream.
Makes drinks, sauces, baby food, grinds coffee, crushes ice and more.
Replaces juicer and food processor.
         Con's
There is no on/off button, but rather works by pushing down on cup and locking in place.  This can be difficult for some people.
Can over blend ingredients if left on too long.
Won't blend well if over stuffed with fruits or vegetables
Is the NutriBullet Dishwasher Safe?
Yes, all of the NutriBullet cups and lids are top rack dishwasher safe, but the base and blades are not dishwasher safe and must be cleaned by hand.
What is the Warranty?
The Magic Bullet NutriBullet comes with a 30-day money back guarantee, and a full one year warranty against all defects in materials or workmanship.  You can purchase an additional extended 4 year warranty,which will begin at the end the original 1 year warranty period.
What NutriBullet Models Can You Buy?
Click a link to learn more about each NutriBullet Blender Model