Updated: November 2023
Have you heard of Xtrema Cookware? If you are looking to replace your cookware with healthy green cookware that is free of chemicals you don't want in your body,  you should look at Xtrema Ceramic Cookware from Ceramcor.
This is beautiful 100% pure ceramic cookware made from just water and clay.  Xtrema cookware is a healthy alternative to non stick cookware, and is free of potentially toxic materials, including Teflon and cadmium.
Don't be fooled by cheap ceramic coated cookware with metal handles.  This is not pure ceramic cookware.  This is in fact aluminum cookware coated with a cheap synthetic ceramic material.  Xtrema cookware is 100% pure ceramic cookware.  Check it out here.
Note: This article may contain affiliate links.  I may earn a commission if you purchase using the links in the article (at no extra cost to you).
After using the Xtrema ceramic skillet a few times to cook with pure ceramic cookware, the Xtrema Cookware 10″ skillet quickly became my go-to skillet for everyday cooking.
What Is Xtrema Cookware?
Xtrema Cookware from Ceramcor, is sturdy and beautiful PFOA-free pure 100% ceramic cookware. It is made from just two ingredients, clay and water.
When you cook with Xtrema Cookware, you are cooking the way our ancestors did from the beginning of time, with cookware that came from the earth.   Xtrema is made with just clay and water, versus ceramic-coated cookware which is aluminum dipped in a synthetic ceramic material.

Ceramcor is a family-owned small business.  It was founded with a mission to improve the health and wellness of its customers by making natural healthy green cookware free of toxins.
Pure ceramic cookware can handle heat up to 2000 degrees F.  You will probably never need that much heat in your kitchen, but if you do your Xtrema cookware can handle it!
The importance of keeping toxins out of the kitchen and your food is something people are increasingly concerned about today.
This one reason why Ceramic Cookware Is Safer Than Stainless Steel cookware and non stick cookware.  People don't always realize the chemicals in cookware can leach cancer-causing toxins into our food, and ultimately our bodies.
How to Cook with Xtrema Ceramic Cookware
Cooking with pure ceramic cookware is a little different than cooking with other types of cookware, but still very simple.  It took me a bit of time to get adjusted to cooking with ceramic cookware, as compared to other types of cookware.  After cooking with my Xtrema skillet a few times, I got the hang of it, and it quickly became my favorite skillet for all my cooking.   It's well worth the effort to learn how to cook with Xtrema.You won't be disappointed.

You just need to follow the simple Do's and Don'ts to learn how to cook with Xtrema Cookware.  This will make cooking enjoyable and clean up a breeze.
Is Pure Ceramic Cookware Safe to Use?
You may be wondering is ceramic cookware safe?  Xtrema is real green cookware, which is made predominantly with two ingredients found naturally on earth – clay and water.  It is free of toxic chemicals like PFOA, lead and cadmium.
The shiny black glaze on the surface is not just beautiful, it also helps give this pure 100% ceramic cookware it's non stick surface.  There is no risk of leaching toxic chemicals, such as  (PFOA) Perfluorooctanoic acid and cadmium into your food, and ultimately into your body.
Ceramcor has their products tested to ensure they meet the following standards:
PFOA-free
PFFE-free
Lead free
Cadmium free
In full compliance with USDA to ensure products are free of lead and cadmium
Meets California Prop 65 standards for hazardous materials.
You can view the Inspection Certificates Here
How Xtrema Cookware is made?
Xtrema Cookware is hand-made 100% pure ceramic cookware.  This green cookware is made from just water and clay,  and takes a painstaking 18 days to make.   Xtrema is Healthy & Versatile and is not cheap mass-produced  ceramic coated cookware.
 
 Source: Ceramcor
Benefits of Xtrema Ceramic Cookware
100% Pure Ceramic cookware made from clay and water, and not cheap ceramic coated aluminum cookware.
Pure Ceramic Cookware can withstand temps up to 2,700 F.
Made with a Non-Scratch, Non-Toxic Ceramic Glaze Surface.
Beautiful Lead and Cadmium Free High Gloss Black Finish.
Can be used in multiple cooking options:  Oven, Stovetop, Broiler, Barbecue , Microwave Oven, and Freezer.
Dishwasher Safe.  Hand-washing is recommended.

True Green Cookware.  Made with just water and clay.
Durable Cooking Surface won't Scratch.
Is Xtrema Ceramic Cookware Easy to Clean?
Xtrema cleans up easily with just warm water and a soapy sponge.  You can wash 100% ceramic cookware in a dishwasher, but the   manufacturer recommends hand washing.
If you leave the skillet overnight and food is hard to clean off, just sprinkle some baking soda and water on the skillet.  Make a paste and let it sit for about 5 -10 minutes.  The food particles will come right off with minimal scrubbing.
Baking soda is tough on stains, but is remarkably gentle to your ceramic cookware.
You can sear meat in Xtrema cookware to lock in juices and flavor, just as you would with other cookware, particularly cast iron or stainless steel cookware.  The key to searing meat in a ceramic skillet is to start with a hot surface. You should never put raw meat onto a cold ceramic cooking surface.
The best way to get ceramic cookware hot for searing meat is to place the ceramic skillet in a 450 degree oven for 5 minutes, then place it on a stove top burner at Med to Med-High heat.  Finally, place your meat into the skillet to sear on all sides until the meat is brown.
While this may seem like a complicated process, it usually takes about 5 minutes to heat up a metal skillet on the stove top to get it hot enough for searing meat.  With your Xtrema ceramic skillet, you are simply using your oven instead of a burner to get the ceramic skillet hot enough to sear meat.  The process takes the same amount of time.
You can see how well Xtrema Cookware works with this delicious Turkey Burger Recipe
Pros of Xtrema Ceramic Cookware
Allows you to use low to medium heat.
Works on a stove top or in an oven.
Lead and Cadmium free and Heavy Toxic Metal Free for your safety.
PFOA & PTFE Free with no unsafe non-stick coating.
Xtrema Ceramic Cookware Can Withstand Temperatures of 2,700F, unlike metal cookware, which can melt at 2,200F.
Store in fridge or freezer.
This durable cooking surface won't ever scratch.
Easy to clean with sponge and warm water.
Xtrema cookware is dishwasher safe.
Xtrema Cookware has a 50 Year Warranty against scratching.
100% ceramic cookware has no trace metals or chemicals that can leach into your food during cooking.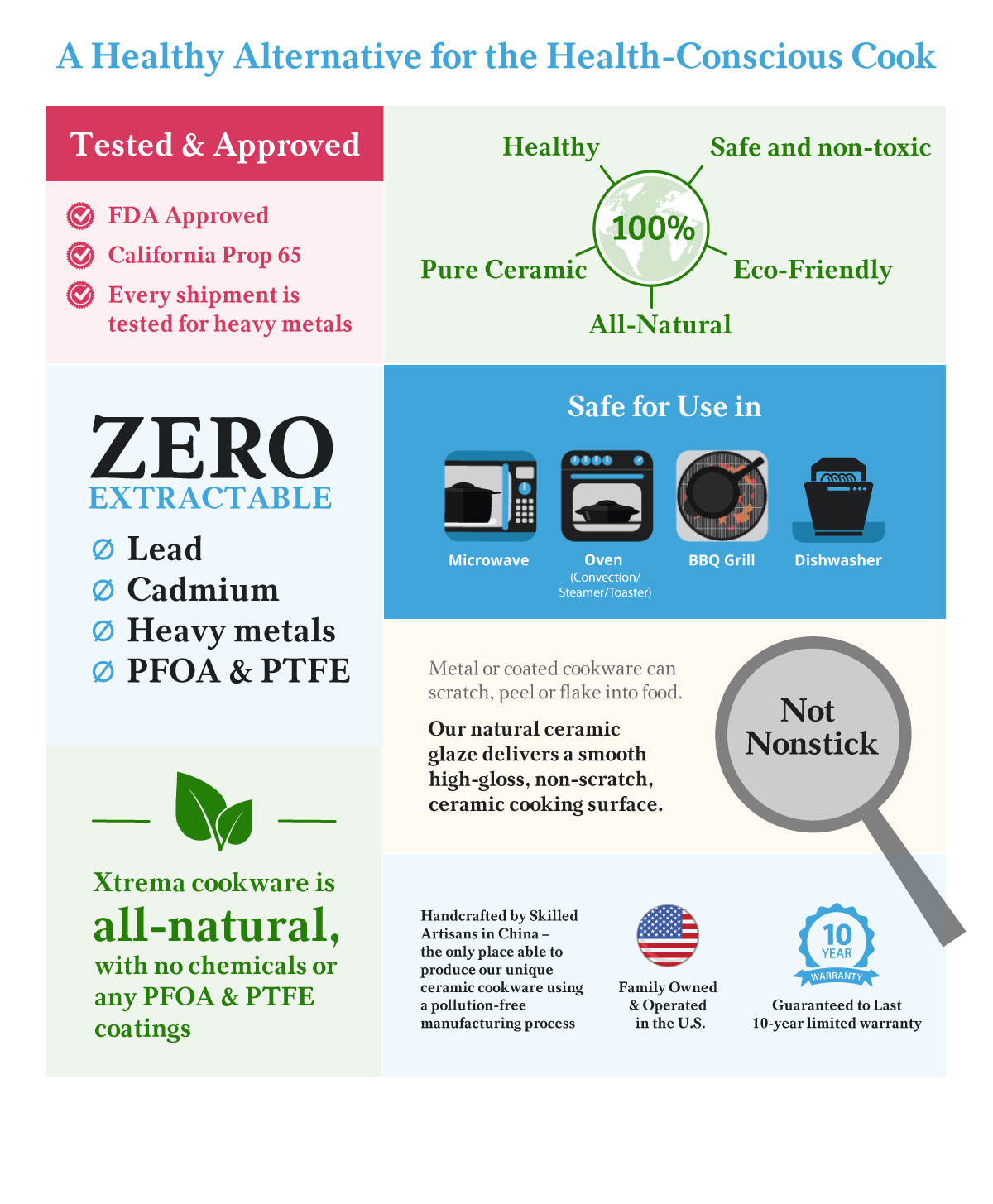 Cons of Xtrema Cookware:
Can break if dropped on a hard surface.
Doesn't stack easily for storage.
Only sold online
Can Xtrema Cookware chip or break?
Yes, Xtrema Cookware is made from pure ceramic material, and can chip or break if dropped onto a hard surface.  Stack carefully in the cupboard or dishwasher.
How Do You store your Xtrema Ceramic  Cookware?
Ceramcor recommends you store your Xtrema cookware pieces separately if space permits. Stacking ceramic cookware may cause cracking or chipping.
If you must nest Xtrema pieces for space constraint, place a cloth or paper towel between each piece, to prevent chips or cracks. Another tip is to place the lid on upside down when storing each pot separately. This will help prevent the covers from chipping.
Testimonials of Xtrema Cookwarefrom Real Users
I'm a cancer patient who needs to eat extremely well, but who doesn't have the strength for endless scrubbing. I also want my cookware to be totally non-toxic. Xtrema® cookware has it all!"
Elizabeth G.
Thank you so much for making such a wonderful product. For over a year I have been searching for truly safe cookware. Xtrema® cookware does it all. Bye, bye cast iron!"
The D. Family
When I received my Xtrema® cookware order the first thing I did was to test it out. First, I boiled water for hot chocolate. Wow! The hot chocolate was much richer than what I'd previously made using a stainless steel teapot. Then I fried an egg in the Xtrema® cookware skillet and another skillet. Unbelievable! The eggs were different colors, texture and flavors. I've now been using the cookware for several weeks and am extremely pleased. The food cooked with Xtrema® cookware tastes better, stays hot longer, and seems to be juicier."
Lesli
Where Can You Buy Xtrema Ceramic Cookware?
To save you money and reducing the carbon footprint for the planet, Xtrema Cookwareis shipped directly from the Ceramcor distribution center in New Jersey to your door.  This eliminates added shipping and handling cost, reduces chances of damage or breakage due to extra handling, and eliminates the unnecessary use of natural resources.
Xtrema Cookware 10-Year Warranty
While many cookware manufacturers offers a 1 year warranty for their cookware, Xtrema Cookware stands behind their pure ceramic cookware with an impressive 10 year warranty.
You can learn more about the Xtrema Cookware Warranty here.
Related articles

Alternatives to Xtrema Cookware
Sources:
Latest posts by Ken Weiss
(see all)